Dentistry by Choice, a training LLC was co-founded in 2004 by Chuck and JoAn.  JoAn an RDA by trade and two time business owner had a strong background in training as an original apprentice to the late Walter "Bitsy" Hailey at the Dental Boot Kamp in Texas.  This was the original case acceptance (seminar) company in dentistry and JoAn fell in love with the team oriented event back then a still finds her greatest gift is encouraging and growing teams. Chuck a practicing dentist for over 30 years with a strong background in clinical training and diverse skill package supported JoAn's efforts to create a company dedicated to results oriented training.  One that would provide more than expected from a half day or full day seminar.  Originally their model was to provide study clubs an affordable offering that provided real content at the event as well as value to the surgeon or host.
As the demand for "more JoAn" grew this poster couple in dentistry wanted to be able to deliver something different and better.  They worked with some industry experts and coaches and consultants that they trusted to develop Out of the Mouth.  Their on line learning center scheduled to launch in the fall of 2016 to create greater value for practices who attended a seminar or two day training.  Today's team members want to be met where they live.  They understood this more than most with Dr. Majors' fourth and final practice approaching a 2 year anniversary. The couple had experienced real knowledge of how tough it was to train new team members to the level the two had operated at for years.  The systems they teach were just that, systems.  Breaking them down and creating a way for large groups to have access, train, then be held accountable with KPI's was a new arena and a game changer.  They had a commitment to respect the IN BOX for the practice because it can be daunting but looked forward to reaching out to the many who had requested a next step for years.
In keeping with their DBC Life Long Connection they started the subsidiary, Out of the Mouth to bridge the gap between JoAn's love of the front of the room inspiration to team members everywhere and what the practice needed to stay motivated and keep moving forward with her energy.  JoAn never wanted to be in practices regularly because her love, learning, and "lab" was in Chuck's practice yet her real joy and true gift was sharing from the platform.   "These people are not my audience, they become my friends and I have a real commitment to continue with them on this journey at their pace. The on line learning was the only way, because we are all at a different place in our dental journey and in life"; JoAn said.  New dentist getting out have so much debt and technology needs that it will be expensive and tough for them to get this training to their team. Out of the Mouth would allow her to reach more team members and when a practice had change, they had a resource to train even re-train at their fingertips on their timing and on their device of choice!
Lastly, our abundance "calling all consultants, coaches and advisors" mentality has helped us create a network of great relationships the doctor can rely on.  We don't do everything, but there's really nothing that we don't have a great referral for.  It's what happens when you are real people, really in dentistry!  We hope you can find something that will encourage you.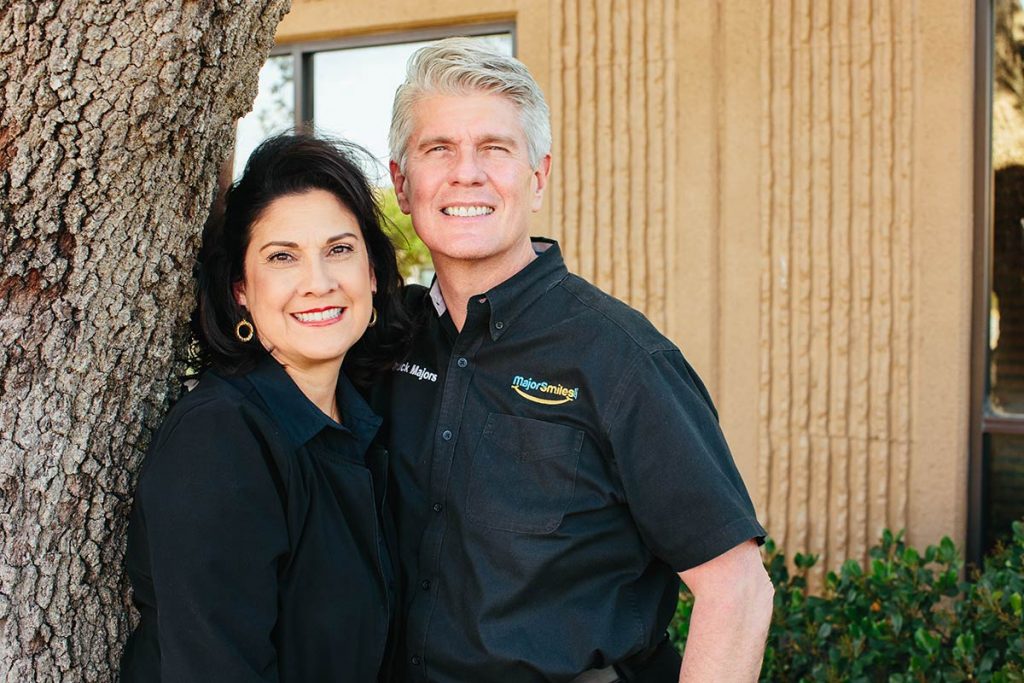 This "dynamic duo" still spends full time hours in their Bryan Texas practice. Chuck and JoAn, the Comprehensive Care Coordinator are real people really in dentistry.