EncourageMentors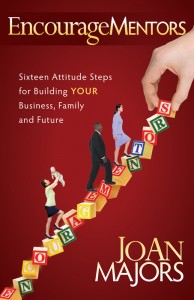 Sixteen Attitude Steps for Building YOUR Business, Family and Future
By JoAn Majors. Think of a person who meant a great deal to you. Did she challenge you to be better? Did he push you to go past the limits you had set for yourself? Does that person still influence you today? Wouldn't you like to have that level of impact in the lives of others? JoAn Majors has provided an excellent handbook for becoming the mentor you want to be. EncourageMentors is a book that you can read quickly and will study for the remainder of your life. Learn its lessons and see your influence grow and flourish.
---
Discover Your Inner Strength!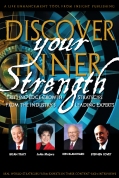 Cutting Edge Growth Strategies from the Industry's Leading Experts SEVIERVILLE, TENNESSEE— JoAn Majors, professional speaker and author, has been selected from a nationwide search to be featured in Discover Your Inner Strength, a highly successful book series from Tennessee based Insight Publishing. The book features best-selling authors Stephen R. Covey (Seven Habits of Highly Effective People), Brian Tracy (Million Dollar Habits), and Ken Blanchard (One Minute Manager). JoAn Majors, Blanchard, Covey and Canfield, are joined by other well known authors and speakers, each offering time-tested strategies for success in frank and intimate interviews.
---
BookOpen the Door…To Your Purpose In Implant Dentistry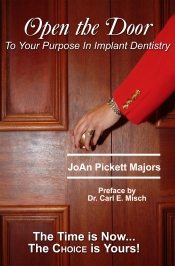 In the Preface, Dr. Carl Misch calls it, "The ultimate team handbook on how to place implants as viable an option for your patients' dental health as hip and knee replacements are for their medical health. Having served our industry in so many capacities over the last twenty-three years, JoAn embodies what every member of an implant dental team should know."
---
Mem-Cards for Open the Door…To Your Purpose In Implant Dentistry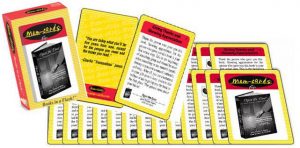 Now you can take the book and its pearls with you! This pocket-style curriculum is the size of a playing card, and there are 26 different cards to take you back to the book and create action and awareness. They feature great quotes from the book and entrepreneurial giants in business to make the information memorable and stick!
Are you an implant company or surgeon? Ask us how to customize these cards with your logo for long term benefit and lasting recognition.
---
SPECIAL! Book and Mem-Cards for Open the Door…To Your Purpose In Implant Dentistry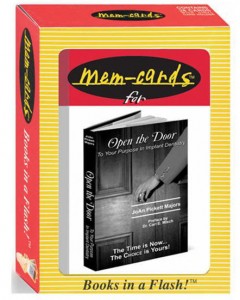 Buy Now! Open the Door…To Your Purpose in Implant Dentistry for $29.95 and buy the Mem-Cards designed especially for the book for only $3.95.
---