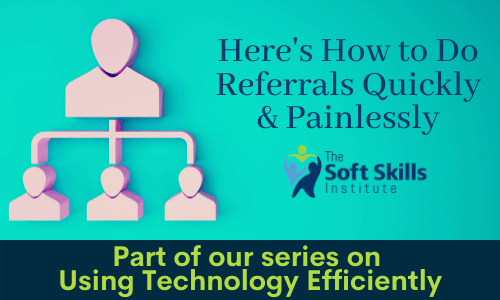 Part 2 from: Efficiencies With Technologies From a Non-Tech Person
As I shared a couple of weeks back, I'm going to go over a few technologies that I have come to appreciate more and more Post-COVID. I say Post-COVID and you all know we are still in the deep of it with changes in our practices. One of the technologies I am going to highlight very briefly this week is honestly one of my very favorites. I say this because for years my biggest block of speaking business has been helping specialists grow their referrals, predictably. Being married to a general dentist, I understand intimately the magic of a smooth and predictable referral as well as where breakdowns can occur. It isn't as simple as either party might want it to be. We know that the referral slips or a piece of paper represent something else in today's office – another thing several people must touch and pass on to another person. This is something that isn't easy to read once sprayed with disinfectant! 
We now know there is a better way. A more predictable, more affordable, and more welcoming way to ensure the referral gets to your favorite specialist without so much work and only one touch involved. In a time when we want to touch less but connect more often and in better ways, you're going to LOVE this technology! No filling out referral slips (to get lost in the purse, wallet or parking lot), no phone calls, just OneClick to successfully refer your patient while they are in your chair! Okay, I know you think it sounds too easy. You're right, so why aren't you using this software that integrates directly into your practice management software making it ridiculously easy to attach x-rays, medical history, and checkboxes for evaluation directions?
No more "let me make a call, then fill out a slip of paper, and eventually find the time to send an email with an attached x-ray." 
Probably because it's one of the best kept secrets in dentistry but I'm here to shout from the rooftops! Listen up doctor, manager, dental spouse, or any decision-maker in the practice- this technology can transform the way you refer patients. As a GP, your patients just love the immediate message the specialist sends while he or she is still in your office! Talk about connecting the dots quickly and predictably. It's like a FAST PASS at Disney. You just jumped to the front of the line! Your referrals won't get caught up in an antiquated paper system. No more "let me make a call, then fill out a slip of paper, and eventually find the time to send an email with an attached x-ray." (That's assuming one actually has the time to complete this of course.) No worries, they will be calling you to ask because the patient is in the chair! It's like the EASY button with the touch it once system. Another thing I like with OneClick is that you can go check the status on any of your patients within the dashboard.
OneClick is a simple technology that is sure to create efficiencies for the general and specialist practice. Learn more about OneCLick. Sign up for a demo at https://oneclickreferral.com/demo/ and tell them, JoAn sent you to receive a special offer, you won't be disappointed! 
See you on the road…or on the web!
JoAn