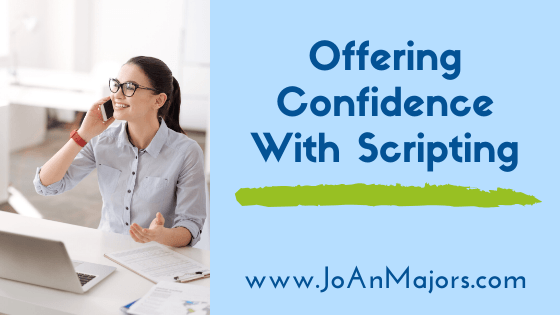 I know many times your first thought is, I'm not going to script anything. I appreciate that thought and recognize that many of us are confident in our ability to ask questions. We ask with curiosity. Then we can follow where the patient wants to go with communication. However, this is not normal in our practices. Most especially when it is a time of abnormal!
 What we know during times of confusion is that a message that gives confidence to the person sending as well as the person receiving the communication will help to create hope. Right now, everyone could use a little hope in the message. We are spending some time to help teams understand how valuable it is to sing (if you will) out of the same songbook. Sending mixed messages to our patients or our people has never really served us well.
Action Item: When have you had a professional communicate something very confidently to you? Something perhaps you didn't want to hear or do, but confidence is what spurred you to take action. Please write down the example and share it with your team.
Stay tuned to how to use this 3 C's formula of communication to create a greater connection by being united in the message. We love systems, and using this system to filter and organize the information you want to share will help deliver confidence to all parties. Then you can spend time intentionally connecting with those in your circle without worrying that there will be too much to convey in one visit. The process of communication important facts starts long before the appointment. 
 See you on the road…or the web!
JoAn