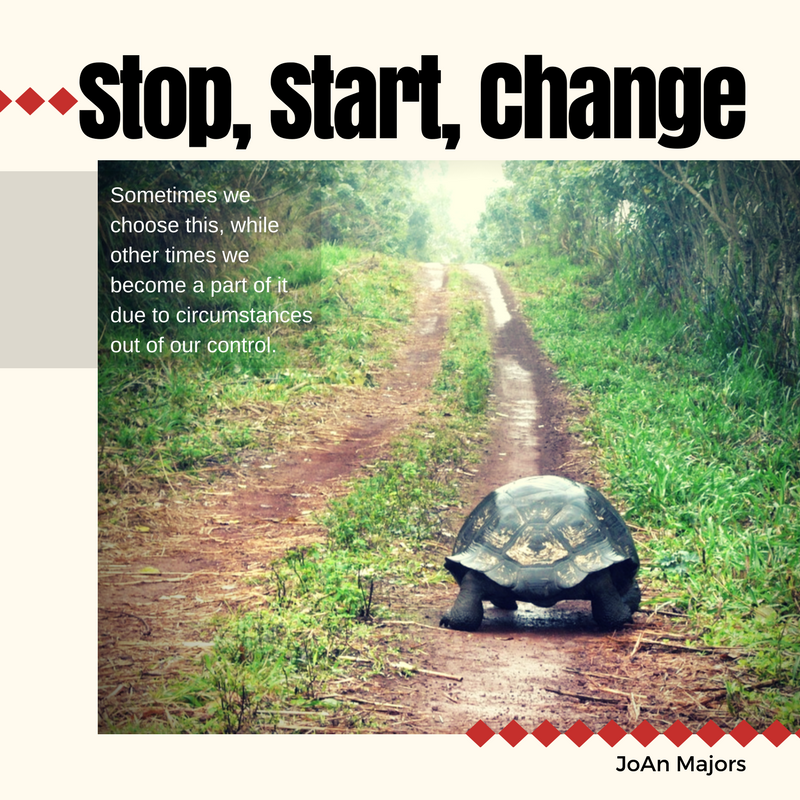 Recently, after some major surgery, I've been forced to "lie down" as the good book says. When we go through these seasons in life, I always think of how my husband has described for years to our children and his patients this cycle.
When we have life events, personal or professional, we have times where we must just stop. We start a different way and this creates change. He always shared that life is made up of stop, start, and change. Sometimes we choose this, while other times we become a part of it due to circumstances out of our control. I can assure you from someone who loves the podium, being in our practice, and our family times… that I wasn't ready to STOP speaking, STOP preparing for my son's graduation from high school, STOP going in to the practice, and STOP doing anything at a computer or on a keyboard…to have an unscheduled, not optional, spine surgery! "…He maketh me lie down…"
By the way, I didn't make this up, this Stop, Start, and Change. I always try to find out where things originate. I searched the web prior to writing this and turns out, this is a management system. If you have heard me speak or read anything I write you know, I LOVE SYSTEMS! My personality tends to follow the "bright shiny objects" if I am not careful and on track. Systems help me stay focused and keep me in a more productive state of mind. This is great because 5 weeks post op, I will be in physical therapy for a stretch of at least 6 weeks where I can't drive or fly, much less coordinate my clothing with a neck collar made for a whiplash victim! However, I'm okay now. It's the part of the cycle that is start something different, for me anyway. Change my perception of what I am built to do…or be.
I can honestly say, I am in the part of the stage where I cannot say what is next. Health can often dictate this. The part of the cycle that control freaks hate. The part of life that over achievers don't want to be in, much less share with the masses they are in, UNTIL they are on the other side and have a success story to share!
Thank you to so many of my readers, past clients, business associates, friends, family, even audience and airplane acquaintances who are now in my circle on social media. It has been my pleasure to be in your circle, space, inbox, prayer list… whatever and however we have connected.
Stay tuned, who knows what's in store when life is in charge, and you are not. I'm still on the road, but the fog is so thick, I've slowed down to a crawl for safety's sake!
See you on the road,
JoAn